Avison Young doradzał Newbridge Poland w procesie refinansowania portfolio parków handlowych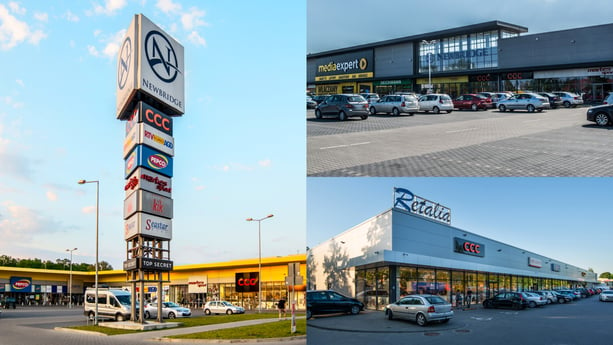 15 lipca 2022
Avison Young doradzał Newbridge Poland w procesie refinansowania portfolio parków handlowych
Bank Pekao S.A. zrealizował projekt refinansowania za ponad 10 mln euro portfolio parków handlowych należących do Newbridge Poland. Zespół inwestycyjny Avison Young doradzał w tym procesie inwestorowi.
Parki handlowe, które zostały zrefinansowane, to nowoczesne i popularne obiekty znajdujące się w Namysłowie (ul. Bohaterów Warszawy 17a), Włocławku (ul. Komunalna 2b) i Grodzisku Mazowieckim (ul. Królewska 48). Oferują łącznie całkowitą powierzchnię najmu ok. 13 000 metrów kwadratowych, która jest prawie w całości wynajęta takim silnym najemcom jak m.in. CCC, Pepco, Rossmann, RTV Euro AGD, KiK, Martes Sport czy Deichmann, na długoterminowe umowy najmu. Obiekty są zarządzane przez doświadczonego menedżera, specjalizującego się w nieruchomościach tego typu. Parki handlowe to obecnie jedne z najbardziej poszukiwanych aktywów na polskim rynku nieruchomości.
Bankiem refinansującym jest Bank Pekao S.A. Wartość refinansowania przekracza 10 milionów euro. Avison Young aktywnie doradzał w tym procesie Newbridge Poland, pomagając w pozyskaniu i wyborze banku finansującego.
"Jesteśmy bardzo zadowoleni z wyników finansowych całego portfolio. Tworzyliśmy je stopniowo, modernizując i zawsze dbając o odpowiedni doboru najemców, aby zapewnić klientom szeroką ofertę zakupową. Cieszymy się, że portfolio zyskało uznanie Banku Pekao S.A. w procesie pozyskiwania refinansowania" – komentuje Barbara Wojdełko, Director w Newbridge Poland.
"Obiekty handlowe, które są przedmiotem refinansowania, znajdują się w atrakcyjnych lokalizacjach i są stałym punktem zakupów dla wielu mieszkańców. Obserwując sytuację na rynku nieruchomości w czasie pandemii i odporność takich nieruchomości na obostrzenia COVID-owe, z przyjemnością zaangażowaliśmy się w proces refinansowania tej inwestycji" – mówi Beata Peryt, Dyrektor w Biurze Finansowania Nieruchomości Komercyjnych Banku Pekao S.A.
"Parki handlowe to jeden z najgorętszych obecnie produktów inwestycyjnych na rynku nieruchomości komercyjnych w Polsce, dlatego proces pozyskania refinansowania na te aktywa przebiegł bardzo sprawnie, również dzięki wzorowej współpracy pomiędzy inwestorem i bankiem" – komentuje Michał Ćwikliński, Principal, Managing Director w Avison Young w Polsce.