Eurobuild Awards - Avison Young na shortliście!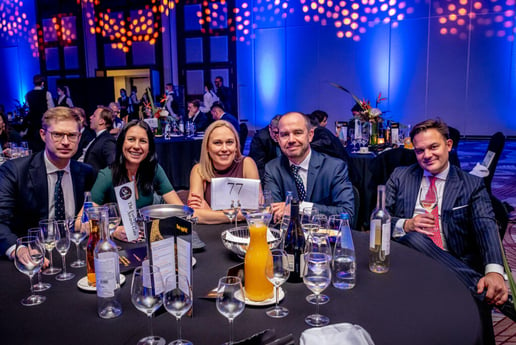 30 wrz 2021
Menedżerowie Avison Young podczas gali Eurobuild Awards.
Avison Young został ponownie wyróżniony nominacją do nagrody dla najlepszej agencji doradczej roku na polskim rynku.
Naszą działalność w Polsce rozpoczęliśmy zaledwie 4 lata temu. W tym czasie nie próżnowaliśmy: pracowaliśmy ciężko, w tym nad utrzymywaniem dobrych relacji z klientami, oraz nawiązaliśmy wiele nowych kontaktów; zamknęliśmy liczne istotne transakcje, zwiększyliśmy skład osobowy, w tym również o kadrę wyższego szczebla.
COVID-19 przetrwaliśmy dobrze, w pełnym składzie osobowym, a teraz dołączają do nas nowe osoby, oraz planujemy otworzyć w najbliższej przyszłości kolejne linie biznesowe. Jesteśmy podekscytowani kolejnymi etapami naszego rozwoju!
Gratulacje dla zespołu EurobuildCEE za organizację gali EurobuildAwards. To świetnie, że mimo pandemicznych okoliczności, udało się zorganizować to wydarzenie - nic tak nie pozwala budować relacji jak spotkania twarzą w twarz!