Avison Young rozszerza działalność w CEE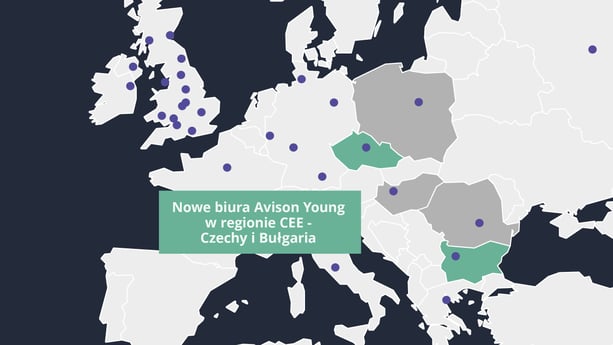 25 marca 2021
Otwieramy nowe biura w Czechach i w Bułgarii.
Nowo otwarte biuro w Czechach oraz firma Slavtchev Consulting w Bułgarii będą działać od tej pory pod marką Avison Young i będą świadczyć usługi doradcze klientom zarówno lokalnym jak i międzynarodowym.
"Rozwijamy się tam, gdzie nasi klienci nas potrzebują i gdzie możemy pozyskać najlepsze zasoby ludzkie. Takim regionem jest właśnie Europa Środkowo-Wschodnia, gdzie możliwości inwestycyjne są ogromne, a myśl technologiczna kwitnie."- komentuje Mark Rose, Chair i CEO w Avison Young. "Zespoły w Czechach i Bułgarii świetnie wpisują się w idee Avison Young, firmy opartej na współpracy i stawiającej na ludzi. A różnorodność ich perspektyw i doświadczeń, wniesie do naszej organizacji cenną wiedzę, abyśmy mogli świadczyć naszym klientom jeszcze lepiej dopasowane do ich oczekiwań usługi."
Biuro w Czechach
Nowe biuro w Czechach będzie kierowane przez Ryana Wraya (MRICS) na stanowisku Principal, Managing Director Avison Young w Czechach – znanego na rynku eksperta rynków kapitałowych i wycen.
Biuro w Czechach będzie najbliżej współpracować z biurem Avison Young w Rumunii, zarządzanym przez Davida Canta (Principal, Managing Director Avison Young w Rumunii).
Zespół kierowany przez Wraya to specjaliści wyższego szczebla, z wieloletnim doświadczeniem na rynkach nieruchomości czeskim i słowackim. Swoim klientom będą oferowali usługi doradztwa inwestycyjnego, wycen, doradztwa przy wynajmie powierzchni biurowych, handlowych i przemysłowych, usługi property management czy przeprowadzanie badań rynkowych.
Biuro w Bułgarii
­Założona w 2012 roku przez Antona Slavtcheva firma Slavtchev Consulting, jest jedną z wiodących firm w zakresie pośrednictwa, doradztwa i zarządzania budynkami biurowymi w Bułgarii. Ponadto świadczy usługi reprezentacji wynajmującego i najemcy, doradztwa marketingowego i przeprowadza badania rynkowe. Członkowie zespołu posiadają doświadczenie lokalne jak i międzynarodowe, na rynkach we Francji, Wielkiej Brytanii i Rumunii.
Avison Young ma już od pewnego czasu w Europie Środkowo-Wschodniej oddziały w Polsce i w Rumunii. Biuro w Czechach i Bułgarii to kolejny etap rozwoju Avison Young w tym regionie, po ogłoszonym niedawno połączeniu z grupą Limehouse, która obecnie świadczy usługi doradcze na Węgrzech jako Avison Young. Avison Young wzmacnia swoją obecność w regionie i rozwija dynamicznie sieć usług w całej Europie, w tym m.in. w Wielkiej Brytanii, Irlandii, Niemczech i Izraelu.
"Bardzo cieszy mnie tempo, w jakim Avison Young rozwija się w Europie Środkowo-Wschodniej. Razem z kolegami z innych krajów regionu oraz z Niemiec i Wielkiej Brytanii tworzymy mocny zespół ekspertów rynkowych, dzieląc się wiedzą i realnie wspierając nawzajem swoje działania. Jestem bardzo zadowolony, patrząc, jak rozwija się również nasz zespół w Polsce, co jest najlepszym potwierdzeniem pokładanego w nas zaufania klientów, których grono również sukcesywnie rośnie." – Michał Ćwikliński, Principal, Managing Director – Poland.
"Wzmocnienie naszej obecności w Europie Środkowo-Wschodniej jest aktualnie kluczowym elementem planów ekspansji Avison Young w Europie; stopniowo poszerzamy nasz zasięg terytorialny i spodziewamy się, że niebawem ogłosimy kolejne informacje na ten temat. "- dodał Gerry Hughes, Principal, President Avison Young Europe. "W ramach naszego rozwoju skupiamy się też na wdrażaniu nowych technologii i umiejętności, pozwalających nam świadczyć wiodące usługi, których oczekują od nas nasi klienci. Naszym celem jest oferowanie usług najwyższej jakości w całym regionie Europy Środkowo-Wschodniej, i dalej - w całej Europie."