HopStop sold by Katharsis to LCP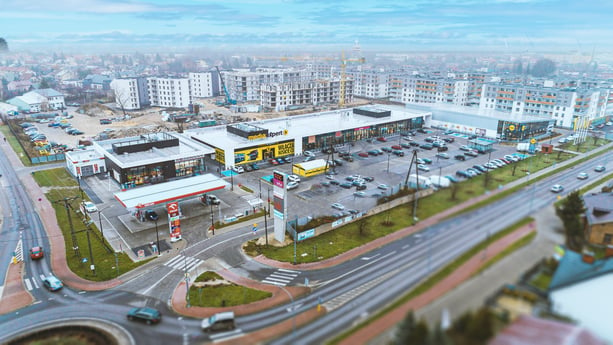 23 Nov 2020
Katharsis Development sold HopStop in Siedlce to LCP Properties. Avison Young advised the seller.
HopStop, convenience retail park in Siedlce, has been sold by Katharsis Development, Polish developer, to LCP Properties, British investor. The seller was represented by Avison Young investment team throughout the transaction.
HopStop in Siedlce is a subsequent retail park developed by Katharsis Development. Other HopStops, located in Radom, Zamosc (2 units) and Rembertow have been sold in a portfolio transaction in 2018. In that transaction, which was recognized with Transaction of the Year award during CEE Investment Awards gala, Avison Young investment team has represented the seller as well.
Same as the other HopStops, HopStop in Siedlce is a modern, convenience retail park. It has almost 4,900 sqm GLA and was developed by Katharsis Development and opened in 2019. HopStop retail park is located 2 kilometers from the centre of Siedlce at Partyzantów Street, in the direct neighbourhood of a new multi-family housing development.
This retail park is 100% leased to such notable tenants as, Lidl, Hebe, Pepco, Media Expert, Kik, Rossmann, including Orlen petrol station within the complex.
"Behind HopStop's success stands the whole team of Katharsis Development, especially Anna Lech and Paulina Żur. We are proud that another HopStop retail park has been acquired by the international investment fund. This proves – especially in current pandemic circumstances – high quality of HopStop development projects delivered by Katharsis Development; our retail park has been open all the time and the number of customers shopping there was breaking records. This transaction is also a result of a long lasting and great cooperation between myself and Michał Ćwikliński from Avison Young. This cooperation has started long time ago, with the beginning of Katharsis Development activities in the market, lasts, and I am convinced it will result in subsequent great transactions closed together in the future." – comments the disposal Rafał Trusiewicz, President of the Board at Katharsis Development.
"HopStop in Siedlce is a subsequent convenience retail asset purchased by our fund in Poland. Regarding retail sector, we target locations Poland-wide, with great accessibility for the local community. We plan further purchases still in 2020. Our goal is to increase our commercial real estate portfolio in Poland by another EUR 150 million within twelve months. – adds Krystian Modrzejewski, Country Manager Poland, LCP Properties.
"HopStop retail park is a great example of convenience retail park scheme – asset class that is one of the most popular among investors (5 of 8 retail transactions concluded in Q3 2020 regarded such asset types) as it provides resilient returns in the current times, offering stable and long term income guaranteed typically by well-operating tenants, especially those anchored by necessity tenants – exemplified well by HopStop in Siedlce, which has been open in 100% all the time.
Taking into account the current activity, we expect some more transactions to be closed soon in this market sector. This is yet another transaction in which Avison Young investment team has had pleasure to cooperate with LCP in 2020. We believe we have learned well about retail park investors' investment criteria and expectations, which made the sale process of HopStop Siedlce smoother. It was great cooperation with the teams of LCP and Katharsis Development." – comments Michał Ćwikliński, Principal, Managing Director Poland, Avison Young.
Katharsis Development was also advised by CMT Advisory and a team from Michalowski Stefanski Advocates Law Firm.