Avison Young as the Content Partner of the 5th Investment Market Conference organized by Eurobuild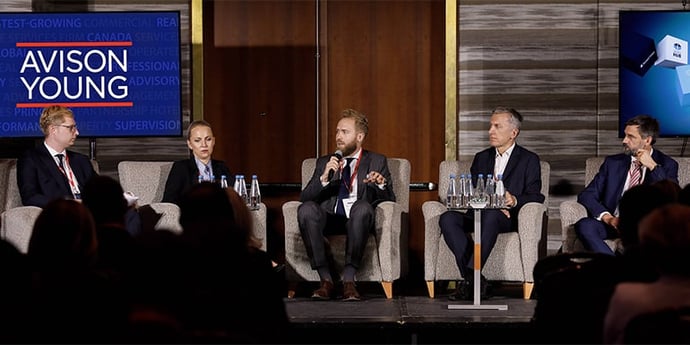 10 Sep 2019
Avison Young acted as the Content Partner in the first after summer investment market conference. Michał Ćwikliński performed the opening speech and Bartłomiej Krzyżak moderated panel discussion focusing on industrial market.
The first after summer investment market conference was held in Warsaw Westin hotel on September 9. Avison Young, as Content Partner of the event, was engaged in creating its agenda. Michał Ćwikliński, Principal, Managing Director – Poland had the opening speech in which he presented current market trends and perspectives of what might be expected in the future. One of the panel discussions, focusing on industrial market, was moderated by Bartłomiej Krzyżak, Director, Investment, at Avison Young.
Notable professionals from different sectors exchanged their opinions at the panel discussions: Justyna Bauta-Szostak (MDDP), Anna Duchnowska (Invesco Real Estate), Karol Pilniewicz (Cromwell Property Group), Angus Wade (Sharow Capital), Francesco Coviello (LaSalle Investment Management), Mieczysław Godzisz (Hines), Czarek Jarzabek (Golub GetHouse), Jeroen van der Toolen (Ghelamco), Piotr Trzciński (Savills Investment Management), Anna Celichowska (Virako), Michał Ciapka (Higasa Properties), Anna Malcharek (Gemini Holding), Piotr Szafarz (Dentons), Maciej Tuszyński (Griffin Real Estate), Jolanta Wawrzyszuk (Atrium European Real Estate), Maciej Wróblewski (Apsys), Michał Białas (Accolade), Monika Duda (M4 Real Estate), Waldemar Grabka (Exeter Property Group), Artur Mokrzycki (Panattoni), Martin Erbe (Helaba), Włodek Skonieczny (ING Bank Śląski), Małgorzata Dankowska (TPA Poland), John Harcourt (Kajima Properties), Renata Kusznierska (Medici Living), Peter Noack (Zeitgeist Asset Management), Dariusz Węglicki (Catella Residential Investment Management).