First Data moves to Equator IV in Warsaw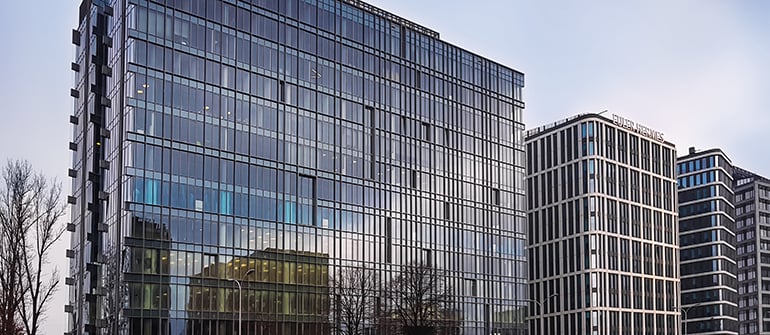 11 Dec 2018
First Data Polska moves to its new office in Equator IV, Warsaw. GVA Polska represented the tenant in negotiations of technical aspects of the lease agreement and coordinated fit out works.
Karimpol Polska, owner of the Equator IV office property, signed lease agreement with new tenant, First Data Polska, who will occupy over 4,600 sq m of office space in the Warsaw office building. GVA Polska represented First Data in negotiations of technical aspects of the lease agreement and coordinated fit out works.
The new tenant will take up 3 floors of Equator IV. First Data Polska is one of the biggest payment technologies providers in the world. The company provides solutions for comprehensive payment services in the omnichannel world. Its clients are financial service providers, service points and retail stores,companies and government organizations.
"When we were looking for a new location for our office, we focused on making it a modern place that will provide employees with comfortable working conditions and will support us in dynamic development on the Polish market. Equator IV responded best to these needs. It is the building that is friendly to employees and the environment and, what is very important, is perfectly located. Thanks to this, the employees have access to facilities that help them to maintain a work-life balance" –informs Krzysztof Polończyk, President of the Board, First Data Polska. JLL supported First Data in search and acquisition process of the new office, while Clifford Chance provided legal advisory.
Equator IV is the eighth investment project of the Karimpol Group in Warsaw. The building includes over 20,000 square meters of office area and around 700 square meters on the ground floor dedicated to commercial and service outlets and a restaurant. The building features 7 elevators, 226 car park spaces in four underground levels, 78 bicycle racks, as well as showers and locker rooms for bikers. Both the building and the whole surrounding area are adjusted to the needs of the disabled. Equator IV is a BREEAM pre-certified building (Very Good). It has been designed by APA Wojciechowski.
Equator IV was let to use in June this year. Among its tenants there are such companies, as: Colian – the owner of such brands, as Goplana, Jutrzenka, Solidarność, Grześki, Hellenaor Appetita, Inoffice Group operating on the Warsaw market of serviced offices, Linux Polska – the leader of open technologies, insurance company Pramerica Życie TUiR SA and the chain fitness club ZDROFIT.