Silesia Business Park: buildings C & D sold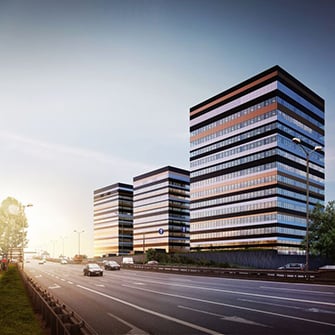 4 Dec 2018
Skanska sold two office buildings to ISOC Holdings, Filipino investor. GVA represented Skanska in the sales process.
Skanska signed with ISOC Holdings, Filipino investor, preliminary sales and purchase agreement for disposal of Silesia Business Park, buildings C and D. Volume of the transaction was agreed at the level of EUR 59 mln. GVA represented Skanska in the sales process.
Silesia Business Park is a four-building office complex with characteristic elevation named "tiramisu", located in Katowice. First buildings, A and B, were sold in 2015 to Swedish investor, Niam. The purchase of buildings C and D by ISOC Holdings constitutes the first acquisition of the Filipino investor in the Polish real estate market.
These two A-class buildings offer in total ca. 24,600 square metres GLA and 250 underground parking places. Main tenants are PwC, Accenture and NGA Human Resources. Building C of the complex has already received LEED Gold certificate, while building D is expected to receive the certification in Q2 2019.
"The ISOC Group is investing in Poland, particularly in Katowice as it reinforces the company's push towards technology and innovation. With its booming BPO and BSC market, a highly educated labor force, a good infrastructure already in place, and the quality of international investors, Katowice is ISOC's most significant entry into the European market. We see Katowice as a vibrant center that has connections with two other major destinations in Poland, Krakow and Wroclaw. We are excited and eager to develop and expand upon our partnerships and presence in the country," Michael Cosiquien, chairman of ISOC stated.
"Over the last few years, the CEE commercial real estate market has seen an increasing flow of newcomers from Asia, South Africa and the Middle East. In 2016, Skanska divested a hotel in Warsaw to a Qatari investor and now we are delighted to welcome our first partner from the Philippines. The growing awareness of Polish regional markets among newcomers is a very encouraging sign for the Polish and CEE investment market," says Adrian Karczewicz, Head of Divestments at Skanska's commercial development unit in CEE.