Atrium Tower changes hands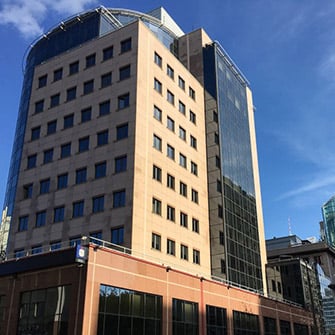 9 Aug 2018
After almost two decades AEW Europe decided to sell Atrium Tower office building located in Warsaw. The new owner of the property is VIG FUND, the real estate investment vehicle of Vienna Insurance Group (VIG). GVA Polska introduced the property to the buyer.
Atrium Tower is an office building located within the Central Business District in Warsaw on Jana Pawła II 25 Avenue. The property was constructed by Skanska Property in 1997 and sold to AEW Europe in 2001. The building offers over 11,500 sq m of office space.
"We have actively managed Atrium Tower for the last 17 years. Its attractive location and our efforts including refurbishment programme make it appealing to tenants which is proved by practically full occupancy. I strongly believe the new owner will be satisfied with this acquisition." – says Ewa Parys, Head of Asset Management Central Europe, AEW Europe.
Michał Ćwikliński, Managing Partner, Country Head Poland at GVA Polska: "I am convinced that this office building will be a great investment to our client, VIG FUND, due to its great location in the heart of city centre, as well as sustainable character of income delivered from multiple tenants."
"It was a pleasure to be part of the sales process of the property that from the very beginning was one of the symbols of the development of the modern office market in Warsaw. Now Atrium Tower is an attractive asset accommodating wide range of international and national tenants," – adds Marek Paczuski, deputy head of the investment department, Savills.
GVA introduced the property to the purchaser and Schoenherr, TPA and cmT supported VIG FUND throughout the transaction. Savills and Wolf Theiss rendered advisory services to AEW.
AEW is real estate asset manager, with almost EUR 60bn of assets under management as at 31 March 2018. VIG FUND is a group company of VIENNA INSURANCE GROUP AG Wiener Versicherung Gruppe ("VIG") which is one of the leading listed companies in Austria and the Central and Eastern European region. The Polish portfolio of VIG FUND comprises also Libra Business Centre and Jasna 26.