Unique sale transaction on retail market in Poland concluded. HopStop retail parks portfolio sold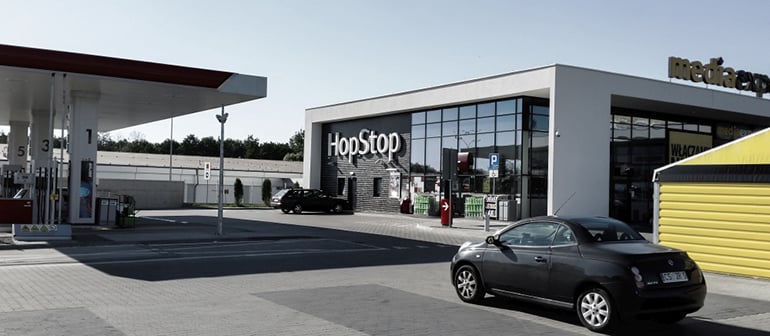 18 Apr 2018
Polish developer, Katharsis Development, sold portfolio of five retail parks, recognized under the brand "HopStop", to CPI Property Group - investor with Czech capital background. Disposal advisory was conducted exclusively by Apleona GVA
This transaction constitutes the first in Poland sales of a standalone portfolio of retail properties convenience type. The HopStop project commenced in 2013 with construction of the first HopStop unit in Radom. After success of this investment, Rafał Trusiewicz, president of Katharsis, decided to expand the project by several new locations. In order to achieve this goal, supported by the company CMT Advisory (M&A and Corporate Finance), he gained co-investor and funds via newly created Katharsis FIZAN Fund.
HopStop concept was recognized in 2017 with a Convenience Store Chain of the Year Award.
Four existing properties constituting sold portfolio are located: in Radom (opened in 2013), in Zamość at Sadowa street (opened 2015), in Zamość at Hrubieszowska Street (opened in 2016) and in Rembertów (opened in 2017). The fifth property is currently in the pre-development phase, nevertheless the lease progress amounts currently ca. 90% of GLA. It will be constructed in Siedlce at Partyzantów street.
Total GLA of the portfolio exceeds 19,000 square metres.
HopStop is a genuinely Polish project of retail parks chain, convenience type, of high quality standard and solid construction. The assumptions of this idea are to create well accessible properties, with comfortable parking places, with separated supply zone, representing simple, esthetic and modern architecture. Some of the projects are also enriched with petrol stations and car washes, offering customers wide scope of services. They are distinguished for considered choice of tenants (among others: Biedronka, Stokrotka, Mila, Topaz, Pepco, Kik, Hebe, MediaExpert, Neonet) and customers solutions. HopStop investments fit well cities' urban structure, arranging them and enriching their scheme.
Rafał Trusiewicz, President and Co-Owner of Katharsis Development comments: "We have fulfilled all business goals: we have created original concept, constructed it, commercialized, so natural consequence is exit from the investment. It has been several years since the construction of the first HopStop. During this time, the brand developed its awareness and esteem and grew up to be sold as a package. Encouraged by the chain's business success, we currently seek new parcels dedicated to subsequent HopStops, which will respect all the project's priorities. We plan to develop next HopStops in Ostrów Wielkopolski and Warsaw district Wawer."
Andras Marton, Country Manager Poland at CPI Property Group adds: "CPI Property Group intends to leverage the present economic growth in Poland to which retail sector forms a strong basis. We are
impressed by the quality of the HopStop concept, the parks' nested locations tailored to service customers. We see great asset value potential in the portfolio."
Apleona GVA acted as the exclusive agent to Katharsis Development, assisting the company throughout the transaction process; from marketing the properties, carrying out due diligence to negotiating a successful closing.
Katharsis Development was supported also by CMT Advisory (M&A and Corporate Finance) and legal company Michałowski Stefański.
CPI Property Group was supported by act BSWW Legal & Tax and Knight Frank. Sentient was responsible for technical due diligence.