Holiday Inn Warsaw City Centre officially acquired by Union Investment. Apleona GVA responsible for technical advisory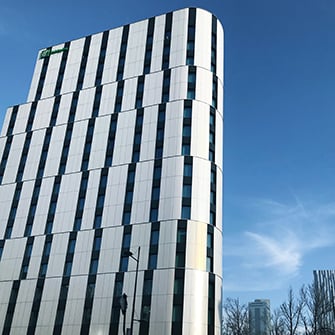 5 Feb 2018
Apleona GVA has secured a contract for technical support and advisory services during the pre-opening phase of the Holiday Inn Warsaw
Apleona GVA has secured a contract for technical support and advisory services during the pre-opening phase of the Holiday Inn Warsaw City Centre Hotel and transition to the new owner. The 256-room property is ready to host its guests. It was officially acquired by Union Investment Real Estate GmbH on January 31st for its UniImmo: Deutschland fund.
Grzegorz Kaleta, Director of Hotel Advisory and Technical Advisory, experienced engineering director who manages several hotel assets in prime locations across Poland led the team of Apleona GVA on this new mandate.
Holiday Inn Warsaw City Centre is not the first Union Investment property in Poland technically managed by Apleona GVA. The company is cooperating with Apleona GVA on three other hotel assets: Radisson Blu Krakow, Radisson Blu Wroclaw and Hampton by Hilton Warsaw City Centre.
This new project assignment is particularly appreciated as Apleona GVA worldwide has strengthened its cooperation with the German investor in locations such as Switzerland and Germany over the past two years.
In total, Apleona GVA worldwide currently manages and advises on a portfolio of more than one million square meters of space for Union Investment Real Estate.