News Releases

Search our commercial real estate news and announcements.
PAREF acquired property near Warsaw occupied by MAN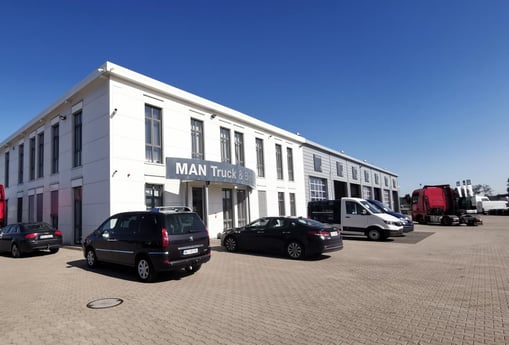 29 Mar 2021
Avison Young investment team represented the seller and introduced the property to the newcomer in the Polish market.
MAN Truck & Bus Center, located in Malopole near Warsaw, has been sold by 7R to Interpierre Europe Centrale fund, managed by PAREF Gestion, part of PAREF Group, global investment and asset management company. The seller was represented by Avison Young investment team throughout the transaction.
The property is located at 3 Graniczna Street in Malopole, about 35 km from the centre of Warsaw, in the immediate vicinity of the S8 connecting several Polish major cities from North-East to South-West directions. Due to this convenient location, there are numerous production plants and other warehouse properties in the surrounding area, e.g. the biggest producer of bakery goods in Poland - Inter Europol, Grodno distribution center, another automotive dealer of Volvo and Renault trucks, IVM Chemicals as well as planned Żabka distribution center, etc.
MAN Truck & Bus Center is a modern building, offering 2,510 sqm GLA comprising servicing area with car wash and 2-storey office space. It is fully leased to MAN Truck & Bus Polska – sales and service division of the heavyweight vehicles manufacturer from Volkswagen group.
"We are very pleased with this first acquisition in Poland for our new fund - SCPI Interpierre Europe Centrale. MAN Centre in Małopole is a property greatly matching the investment criteria of the fund – asset with recognized tenant, with long lease agreement, in attractive location. We aim to build up a portfolio of high quality assets which will generate attractive income." – comments Anne Schwartz, Managing Director, PAREF Gestion.
SCPI Interpierre Europe Centrale fund was created in September 2020 and it is targeting logistics and office real estate assets located in Central Europe, with great focus on Polish, Czech and Hungarian markets.
"MAN center in Malopole, leased to a global automotive company, is a property offering stable income for the owner. We are pleased we have attracted the attention of the PAREF company with this project and introduced PAREF to the Polish market."- comments Bartlomiej Krzyzak, Director, Investment at Avison Young in Poland.
The seller was also represented by SSW, while Dentons provided legal advisory to the buyer.