News Releases

Search our commercial real estate news and announcements.
Real estate investment market summary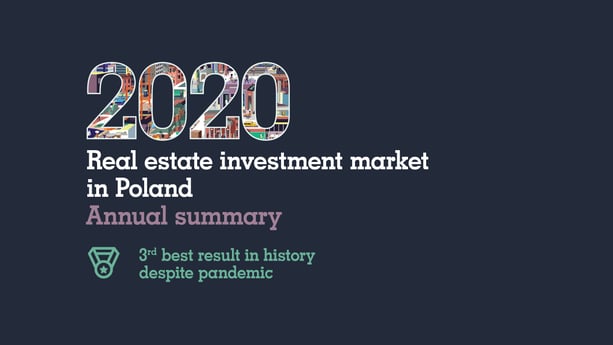 21 Jan 2021
Avison Young has prepared market report summarizing 2020 activities in the Polish market.
The Avison Young team has prepared a report summarizing 2020 on the commercial real estate investment market in Poland.
Despite the pandemic, numerous restrictions and the general mood of economic uncertainty, the market has reached an impressive value of around EUR 5.3 billion. This is the 3rd highest ever result. Also in terms of the number of transactions carried out, there were 116 of them.
Although slowed down by the pandemic, the expansion of investors from Asia and the CEE region on the Polish market was perceived. Investors from Western Europe were less active. However, we expect their business to grow again in the coming year, thanks to the release of capital blocked due to the uncertain economic situation in 2020.
The result of the industrial market was not surprising, accounting for 50% of the total transaction volume in 2020. Portfolio / platforms transactions prevailed in this segment.
Core and core + real estate transactions prevailed in the office market, suggesting a tendency for investors to invest in projects with a lower risk level.
In the retail sector, in terms of the number of completed transactions, the convenience segment dominated, which proved to be resistant to the COVID-19 restrictions.
We are observing increased activity in the investment market now and we estimate that the market has 0.5 billion euros in transactions with preliminary agreements signed in 2020 with the potential for finalization at the beginning of this year.
Looking at the number of projects we are working on, 2021 promises to be optimistic.