Technical advisory team is expanding! Kamil Głowienka joins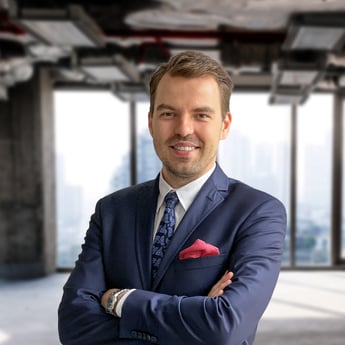 July 4, 2023
Kamil Głowienka joins the Technical Advisory department and takes the role of Project Manager.
Kamil is an engineer with unlimited construction management license in the construction and civil engineering specialty. He has been involved in the real estate and construction market for almost 10 years. Kamil gained professional experience both in Poland and abroad (Spain, China), working for companies such as Warbud, Emmco Pomorze, Rivervial Grupo Constructor, and most recently, White Star Real Estate.
Kamil has overseen the construction of a seven-storey, four-star hotel building with two underground levels. He has also worked as a construction engineer for office and service buildings, including X20 in Warsaw and The Park Kraków in Krakow.
As an engineer with qualifications to manage construction works or provide investor supervision for immovable historic monuments listed in the register of monuments, Kamil has participated in projects involving the renovation and expansion of historic buildings D3 and D5 of the former Powiśle Power Plant in Warsaw. He has also been a member of a team seeking engineering solutions for another historic facility with underground routes of medium and high voltage in fireproof enclosures, as well as an urban district heating network.
Kamil also has experience in overseeing fit-out projects, including restaurants like Dock19 and DYM.
Avison Young's Technical Advisory department consists of experienced market experts, all of whom hold construction licenses in their branches. Recently, the team has provided different services throughout Poland, including technical due diligence, project monitoring, bank monitoring, and comprehensive support for several Warsaw PRS projects.
"I am confident that Kamil will be a great fit for our technical advisory team," comments Tomasz Daniecki, Director, Head of Technical Advisory, Business Development at Avison Young. "He brings rich and diverse experience, excellent knowledge of the investment process, and a client-oriented approach."