Avison Young represented CPD Group in a sale of Iris office building to DL Invest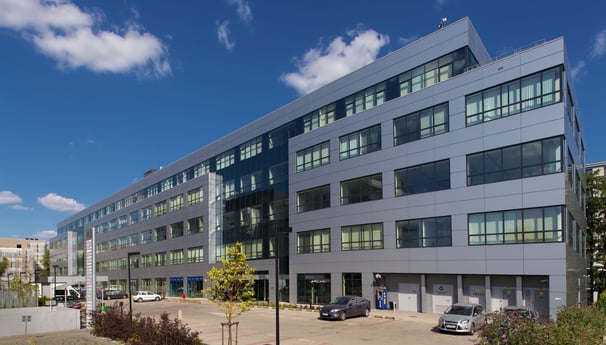 October 18, 2022
Avison Young represented CPD Group in a sale of Iris office building to DL Invest
Iris office building sold by entity being a part of CPD Group to DL Invest Group. Avison Young brokered the transaction and advised the seller in the sales process.
Iris office building, located in Warsaw at 9 Cybernetyki Street has been sold by the entity being a part of CPD Group to DL Invest Group. Avison Young brokered the transaction and represented the seller in the disposal process.

Iris is a modern class A office building being a part of Cybernetyki Office Park located in Mokotow Business District – rapidly developing Warsaw district. Total building space exceeds 14,000 sqm. Iris is 7 kilometers away from the city centre and only 2 kilometers from the Chopin airport.

"The acquisition of such a valuable asset is an important element of DL Invest Group development strategy. Our portfolio of real estate assets is being constantly expanded through developments and acquisitions of new projects. This is another purchase of DL Invest Group closed this year. The value of our real estate portfolio already exceeds PLN 2 billion. We are capable to acquire assets and development projects quickly, thanks to a well-developed internal structure. This structure allows us also not only to conduct a quick appraisal of the property, but in particular generate additional value by revitalizing or re-commercializing of the project. We are constantly looking for attractive assets to purchase, especially those where we can generate additional value. And Iris is a great example of such an asset – with significant potential to increase value. Additionally, over 95% of the available lease space is based on strong tenants such as Asus, Poczta Polska or Saint Gobain, what guarantees constant, long-term cash flow" – comments the acquisition Dominik Leszczyński, CEO at DL Invest Group.

"Avison Young investment team knows the area very well. - comments Marcin Purgal, Senior Director, Investment at Avison Young in Poland – Our team had pleasure to represent DEKA in a disposal of two other office buildings comprising Cybernetyki Office Park – Helion and Luminar. We have also represented M7 Real Estate in a disposal of Mokotow Plaza to FLE. Mokotow Business District appears to be the most developed non-central business hub outside the city center of Warsaw. The area has undergone many urban transformations for the last few years. Attractive rental levels in comparison to the city centre are perfect for companies targeting cost‑efficient solutions within renewed office environment."