Avison Young advised Newbridge Poland in the refinancing process of retail parks portfolio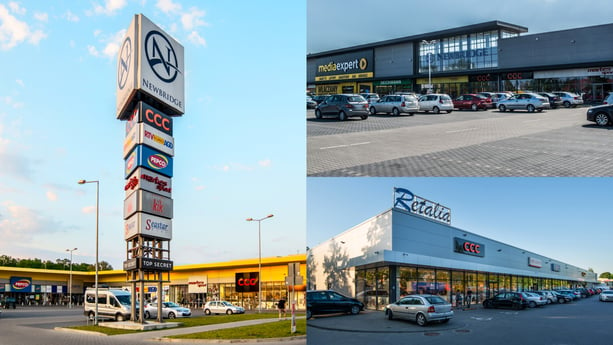 July 15, 2022
Avison Young advised Newbridge Poland in the refinancing process of retail parks portfolio
Bank Pekao S.A. completed the refinancing project of over EUR 10 million. Refinanced real estate product was a retail parks portfolio owned by Newbridge Poland. The investor was advised in this process by Avison Young investment team.
The retail parks comprising the refinanced portfolio are modern and popular facilities located in Namysłów (17A Bohaterów Warszawy St.), Włocławek (2B Komunalna St.) and Grodzisk Mazowiecki (48 Królewska St.). They offer a total leasable area of ​​approximately 13,000 square meters, which is almost entirely leased to such strong tenants as, among others, CCC, Pepco, Rossmann, RTV Euro AGD, KiK, Martes Sport or Deichmann, for long-term lease agreements. The facilities are managed by an experienced manager specializing in this market sector. Retail parks are currently one of the most sought-after assets on the Polish real estate market.
The refinancing bank is Bank Pekao S.A. The value of the refinancing exceeds EUR 10 million. Avison Young actively advised Newbridge Poland in this process, assisting in the selection of the financing bank.
"We are very pleased with the financial performance of the entire portfolio. We have been building it gradually, modernizing and always taking care of the appropriate selection of tenants, in order to provide customers with a wide range of products and services. We are happy that the portfolio has gained recognition of Bank Pekao S.A."- comments Barbara Wojdełko, Director at Newbridge Poland.
"The retail parks which are a subject of refinancing are very well located and established in local communities points of purchase. Observing the situation on the real estate market during the pandemic and the resilience of this type of properties to COVID-19 restrictions, we are pleased to provide refinancing for this investment." - says Beata Peryt, Director at the Commercial Property Finance Department of Bank Pekao S.A.
"Retail parks are one of the hottest investment products on the commercial real estate market in Poland. Therefore, the process of obtaining refinancing for the portfolio ran very smoothly, also thanks to the exemplary cooperation between the investor and the bank," comments Michał Ćwikliński, Principal, Managing Director at Avison Young in Poland.