CBRE GI acquires Neptun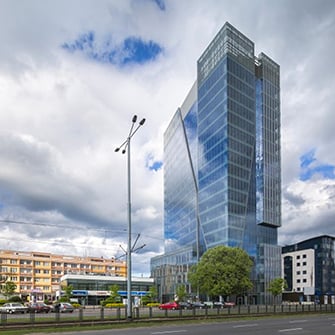 12 Dec 2019
GTC completed the sale of Neptun Office Center. The buyer, CBRE GI, was represented by Avison Young investment team.
GTC sfinalizowało sprzedaż gdańskiego biurowca Neptun Office Center. Kupujący, reprezentowany w tej transakcji przez zespół doradztwa inwestycyjnego Avison Young, to CBRE GI.
Nieruchomość znajdowała się w portfolio GTC od 2016 roku, kiedy to deweloper zakupił ją od Hines, w ramach akwizycji większego portfolio. Perspektywiczna strategia zarządzania aktywami GTC zaowocowała całkowitym wynajęciem biurowca, wydłużenia średniego okresu umów najmu oraz podniosła wartość nieruchomości.
"Neptuna dołączyliśmy do naszego portfela inwestycyjnego w 2016 roku. Biurowiec miał wiele pustostanów a koszt jego zakupu był bardzo atrakcyjny. Sprawne zarządzanie nieruchomością i aktywami pozwoliło nam odmienić jego wizerunek i wynająć budynek w całości. Ta transakcja uwalnia fundusze, które będą inwestowane w nowe projekty a także zostaną podzielone pomiędzy naszych akcjonariuszy." – skomentował Thomas Kurzmann, CEO w GTC Group.
Neptun to biurowiec klasy A, znajdujący się w dzielnicy Gdańsk Wrzeszcz, przy Alei Grunwaldzkiej – głównej arterii łączącej centrum Gdańska z Sopotem i Gdynią. Biurowiec został oddany do użytkowania w 2014 roku i był w tym czasie pierwszym wieżowcem biurowym w Trójmieście, który stał się jednocześnie architektoniczną ikoną, symbolizującą dynamiczny rozwój metropolii.
Neptun Office Center oferuje 16 100 metrów kwadratowych powierzchni biurowej oraz zapewnia 160 miejsc parkingowych. Budynek znajduje się w bliskim sąsiedztwie licznych przystanków autobusowych, kolei miejskiej i tuż przy stacji kolejowej. Jest otoczony wieloma sklepami i punktami usługowymi, takimi jak Galeria Bałtycka, Galeria Metropolia czy Manhattan Gdańsk Shopping Mall.